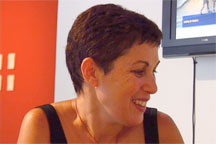 Ana Teixeira, an artist based in Sao Paulo, Brazil, produces drawings, photography, videos, installations, and carries out public "street actions" in numerous European and South American cities. In 2008 Teixeira spent two months in Toronto for a joint residency and exhibition with Canadian artist Anne Fauteux at Mercer Union Centre for Contemporary Art. The exhibition, titled "Thank you, come again! / Obrigado, volte sempre! / Merci, revenez bientôt!" brought together two of Teixeira's projects: "Listening to Love Stories" and "I Lend You My Eyes."
According to Emelie Chhangur, co-curator of the exhibition, Teixeira "orchestrates conditions under which she can interact with the public, one-by-one. She generates alternative circumstances for personal exchange, sometimes through trading one thing for another, other times through and experiential process that initiates new possibilities for a meaningful encounter with others" (Mercer Union exhibition pamphlet, 2008).
For "I Lend You My Eyes," Teixeira fulfilled requests from Canadians who wished to experience an aspect of Sao Paulo or perform an action vicariously through her. Similarly, Brazilians who wished to experience Toronto through her had their wishes fulfilled during her residency with Mercer Union. For instance, she fulfilled a Canadian's desire to attend a samba party in São Paulo, and sought out for a particular individual named Graham in Toronto to help a Brazilian reconnect with a lost acquaintance. Teixeira made films of these actions and gave them to the people who made the requests.
For "Listening to Love Stories," an ongoing project that began in 2005, Texeira sets up two folding chairs in a public space, sits down and begins quietly knitting with a spool of red wool. With a sign beside her that says "listening to love stories" in the local language, she waits for passers-by to sit down voluntarily in the empty chair and start a conversation. The project has been carried out in Sao Paulo, Amsterdam, Cologne, Venice, Barcelona, Paris, and Santiago. During her residency with Mercer Union she tried the project in Hamilton, Ontario, and at Kensington Market and City Hall in Toronto. In her interview with Visible City, Teixeira talks about a few of her street action projects; she compares her experiences in different cities and her attempts to engage strangers in private conversations.
- Ya-Yin Ko
Interview with Ana Teixeira
Part 1: "Listening to Love Stories" and "Exchanging Dreams" "Exchanging Dreams" was one of Teixeira's projects between 1998 an 2006. She offered a small sweet cake called a sonho (which also means "dream" in Portuguese) to strangers and invites them to share a dream in exchange.

Part 2: The character of a city

Part 3: "Another Identity" and "I Lend You My Eyes" "Another Identity" was a project from 2003 to 2006, where Teixeira set up a stall and invited passers-by to create an alternate identity card that resembles the official Brazilian card. The cards include the person's fingerprint and a photo of the back of their head. They also stamped with one of many phrases such as "It doesn't matter now" and "I am never sure."
Exhibition at Mercer Union, A Centre for Contemporary Art
Toronto, Ontario
6 June - 12 July 2008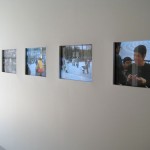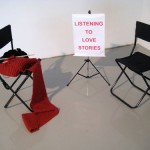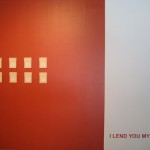 Additional Information:
Visit Ana Teixeira's website