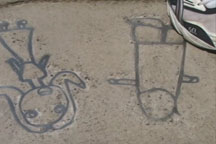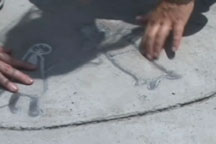 Artist and activist Dyan Marie lives and works in the Lansdowne/Dupont area of Toronto, a neighbourhood fractured by issues of poverty, environmental damage, drug abuse, and an active sex trade. It is also broken up by major roads and three railway lines. There is a reduced tree canopy, and existing parks and other public spaces are perceived as undesirable due to criminal activity.
Dyan Marie has initiated many art interventions to build up the community again. The Walk Here project stitches the neighbourhood back together with public art walkways: spaces reclaimed and made personal by an ambitious grassroots effort to increase and combine art, public space and green space in such a way that it encourages people to move about their community and be connected to the rest of the city. The increased local traffic, it is intended, will establish a positive presence in parks and streets, facilitate neighbourly interaction, boost pride, and promote a sense of place and safety. In particular Dyan envisioned that walkways would encourage women and children to come out and claim their public spaces.
Working with hardly any funding, Dyan brought together residents, elementary and high school students, elected government representatives of all levels, city staff, community groups, service providers and professional artists to design Walk Here. Three installations now comprise the first 40' of the path, which was officially opened in a Canada Day celebration on July 1, 2005, in Wallace Emerson Park, and which subsequently has earned a City of Toronto Clean and Beautiful Award. Inset into the cement of the Walking Walk Here section, children's drawings were cast in steel. In Contained, mosaics were made with help from teens using recycled glass and garbage; while in Constellation, the sixteen professional artists designed unique relief bronze medallions, from which others can take rubbings. The latest development of Walk Here is The Tile Project, which is part of a UNESCO-funded international public art movement through the Transcultural Exchange. Tiles donated by artists around the world have been installed as part of the walk. It opens June 3, 2006, as part of a community festival hosted by DIG IN: Dupont Improvement Group, an organization Dyan founded in 2002.
Dyan's studio at #31-1444 Dupont also functions as a gallery, where she has developed and exhibited projects such as Look-Out Look Here, a community-based initiative addressing violence and the public image of the neighbourhood. The studio itself is the outcome of an earlier intervention. The grounds were contaminated with toxic waste, and slated for redevelopment as an automotive maintenance site, and Dyan intervened, helping redesign it into what is now an active community of artists' studios and small businesses. Dyan also makes and exhibits her own artwork in commercial, public and artist-run galleries.
- Jaleen Grove
Interview with Dyan Marie
| | |
| --- | --- |
| The Walk Here Project | The Environment and the Artist's Space |
Links
DIG IN initiative and announcements website
Dyan Marie's art in the Centre for Canadian Contemporary Art Database
THIS Magazine article: "Public Art Therapy: How Dyan Marie Uses Creativity to Awaken Community Pride"