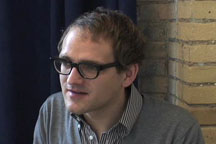 Shawn Micallef has devoted himself in a multitude of ways to the enhancement, archiving and exploration of the urban experience in Toronto. His landmark new media intervention known as the [murmur] project (co-created with James Roussel and Gabe Sawhney), has sparked the interest of a diverse array of scholars, journalists and urbanists who perceive their unique approach to mapping history as a new way of relating to Toronto. An avid flâneur, or walker of the city, Micallef organizes walks nearly every Thursday through various and often uncharted or neglected areas of the city.
The [murmur] project is "a documentary oral history project" which allows pedestrians to learn the silent or secret histories of the cityscape through their cellular phone. In various communities around the city, from Fort York to the Annex, [murmur] signs offer a phone number which when called trigger recorded stories about a building, shop or residence that has some historical relevance to the storyteller. The experience of being present at the site of the event differentiates [murmur] from the traditionally removed way we experience urban history. Instead, the [murmur] participant is encouraged to interrogate and explore space as the colours of narrative and history transform a nameless building or an indistinct shop into a space for imagination and wonder.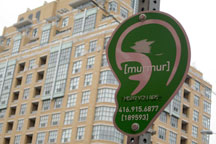 Through [murmur] Micallef became associate editor for Spacing Magazine, a publication once closely affiliated with the Toronto Public Space Committee. In this interview, Micallef discusses his discovery of the Toronto cityscape after living most of his life in Windsor, Ontario and his desire to map the city as both a physical territory and as an imagined narrative space. His city walking, historical archiving and interrogation of public space is a project Micallef believes will endure as a lifelong investigation of Toronto.
- Eli Horwatt
Interview with Shawn Micallef
| | |
| --- | --- |
| From Windsor to Toronto | Toronto as a Workspace |
| Defining Toronto | The [murmur] Project |