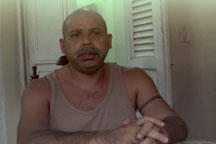 Born on the eve of the revolution in Havana, Cuba, Raul Moarquech Ferrera-Balanquet has become a preeminent interdisciplinary media artist, theoretician, curator and writer. Balanquet was expelled from school during a sharp downturn in the Cuban economy and fled Cuba in 1980 on the Mariel Boatlift. He enrolled in the University of Iowa studying film theory and production. He soon went to New York where he befriended a number of important media collectives including Deep Dish TV and Paper Tiger TV.
After receiving his MFA in Multimedia and Video Art at the University of Iowa in 1992 he was hired to teach at the Art Institute of Chicago. He was awarded the Fulbright Scholarship to teach internet and program design in Merida, Mexico. His work with InteractivA, begun shortly after his return from Mexico, has made the group one of the paramount contemporary exhibitors of new media in Latin America. Soon after, he established Traveling Corners/Esquinas Rodantes, a project looking at transnationalism and Latino relations between Los Angeles and Merida. Balanquet's work has been seen at the Whitney Museum of American Art, The Museum of Image and Sound in Sao Paulo, Brazil, Randolph Street Gallery-Chicago, Brisbane Powerhouse Art center, Australia, Video IN-Vancouver, Canada, Museo de Arte Actual, Bogotá, Colombia, Galeria Fort-Barcelona, Spain, Museum of Contemporary Art in Chicago, Centro de Cultura Contemporanea, Barcelona, and Museum of Contemporary Art (MACAY), Merida.
Balanquet is the first Marielito (the name of those who fled Cuba on the Mariel Boatlift) to be formally invited to the Havana Biennial in 2007. Balanquet's project reveals his investigation into the colonial models of his education and of his artistic ideology. His study led him to reject certain Eurocentric artistic practices and modes of representation which reflect mechanical reproduction, and in effect further reproduce ideological and colonizing models.
- Eli Horwatt
Interview with Raul Moarquech Ferrera-Balanquet
| | |
| --- | --- |
| Introduction to InteractivA | The Influences of InteractivA and the Havana Biennial |
| On International Collectives | Working with the City of Merida |