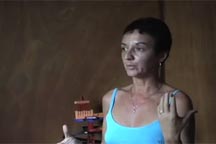 Sandra Ceballos is an interdisciplinary artist and curator. Her art work in multi-media installation, performance and visual art are found in permanent collections around the world. Additionally, her curated exhibitions have also been mounted internationally. Recently she was part of Killing Time, a showcase of contemporary Cuban art at Exit Art gallery in New York City.
Ms. Ceballos is also the founder and director of the first independent gallery in Cuba, Espacio Aglutinador (The Gathering Place), which she started out of her home in Havana in 1994. The gallery provides a space for art to exist outside of official institutions and censorship allowing for a diverse cross-section of artists, critics and the public to intersect. Espacio Aglutinador is set up to invite discourse to occur outside of bureaucratic constraints, thus enabling a vital component of contemporary Cuban culture to thrive. The gallery has held over fifty exhibitions since its inception and as well as being a strong contributor to the Havana Biennale, it has brought shows to London, Madrid and Switzerland.
Interview with Sandra Ceballos
Origins of Espacio Aglutinador

Concept Behind Espacio Aglutinador

Past Exhibitions at Espacio Aglutinador
* Correction: In the videos above the date of the interview is said to be December 14, 2007. This is a typographical error--the accurate date is December 14, 2006.