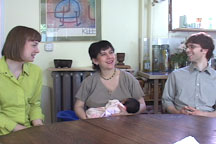 Loop is a collective of independent media artists whose mandate is to develop a public platform integrating experimental film and video with other art forms. Their mission is to explore the roots of experimental film and video by creating a dialogue with other artistic mediums.
The Loop Collective sees their work in relation to the local art community in Toronto, as well as to the larger framework of global capitalism and commodity-art. In the first place, their work seeks to fill a gap that they see existent in the Toronto art world, by providing expression to formalist film experiments, despite the often difficult task of locating spaces suitable to house their shows. Indeed, the interdisciplinary nature of their projects is very often hard to accommodate in the traditional venues for showcasing both visual art and film. Their work also seeks to redress some of the artistic absences in global commercial culture which they see as "purposely repressing" creative work that is experimental, formalist and non-marketable. In a cultural context that rewards market-friendly artwork, the Loop Collective is committed to providing funding and space for artists whose work is antithetical to the commercial mandates of even more progressive broadcasters and film festival programmers. While not explicitly "political" (political in content) their programming, in its very refusal of commercial form, expresses a politics similar to that described by Herbert Marcuse as the critique of "that which is."
The Visible City Project's interview with Loop features three members of the collective: Izabella Pruska-Oldenhof, Ilana Gutman and Colin Clark.
Visit the Loop Collective's website
- Nicholas Balaisis
Interview
| | |
| --- | --- |
| "Interdisciplinarity and an Artist-First Mandate" | "Crossing Borders and Finding Spaces" |
| "Building a Community" | "Formalism and Film Scenes" |