Torontotroll could be thought of as research through self-reflexive activity and participation. Mercer Union, an artist-run centre for contemporary art gave a month-long residency to the Parisian collective Atelier Wundershön Peplum (AWP), who reimagine city spaces through alternative modes of transportation and conceptual art.
Torontotroll took participants on three predetermined routes through Toronto and its suburbs at night by foot, bicycle, subway and bus, asking people to consider their travel and their city in new ways. Other initiatives by other collectives were woven into Torontotroll in the form of art installations, soundscapes, and multimedia punctuated the experience. AWP solicited feedback from participants by discussion and survey, intending originally to collaboratively devise new conceptions of what the city and transportation within it could be. While the success of this particular objective is open to question, it did serve to link artists and others in new ways.
The project was curated by Catherine Sicot, who subsequently published an essay in Public that discusses the background of AWP's Troll initiative in Europe, the process of its manifestation in Toronto, and the successes and failures of its outcome: "Notions of collaboration and teamwork appeared to have completely different meanings for these French residents, whose surprisingly chaotic approach did not match what they perceived as a 'too pragmatic' Toronto community…Ultimately, the project corresponds well with the goals of an artist-run centre such as Mercer Union, which regards experimentation as a sine qua non condition for innovation in art practices."
The complete essay is available here as a PDF file:
Catherine Sicot, "Torontotroll, a wundershön peplum (a wonderful epic) at Mercer Union: Collaborations and urban interventions," trans. Mona Filip, Public 32 (2005): 118-35.
For the full Torontotroll program, visit Mercer Union's archive.
Torontotroll Documentation
The Visible City Project's researchers documented the Torontotroll experience on the night of July 16, 2005, as participants ventured along a route specified by a guide pamphlet (see below).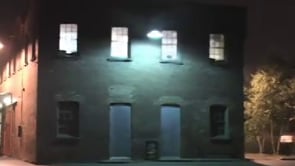 Torontotroll: Night Mobility Laboratory
Torontotroll Guide Pamphlet: July 16, 2005
Photos of Torontotroll activities and outdoor installations: July 16, 2005