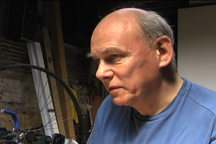 Martin Heath's interest in cinema began with his involvement in the film societies in England in the 1950s. His first exposure to the architectonics of its circuits was through his job at Contemporary Films in London, England. Contemporary Films had been established in New York by the radical film distributor Charles Cooper to become one of the foremost non-theatrical distributors of the postwar 16mm market, expanding it to school libraries, film societies, churches and community groups.
Heath began his film career in the late fifties and early sixties when as a young man, he was hired to run the film library at Contemporary Films. He also began to build his own film collection. Although he was required to destroy extant film prints when they were damaged, all that was needed was a photograph of someone destroying the print can with an axe. Heath became adept at faking these axe deaths and rescued many films. Thus began his love affair with film repair and projection. It also introduced him to Cooper's committed and highly politicized vision of film distribution.
When Heath moved to Toronto in the early 1970s, he moved into Rochdale at the University of Toronto. Rochdale, some would argue, was the quintessential utopian expression of the "Expanded Cinema University." Not unlike the vision of co-operative community living featured at Montreal's Expo '67 (especially Moshe Safdie's Habitat), Rochdale College was the University of Toronto's first co-op residence, Canada's first Free University. It opened in the spring of 1968 as a pedagogical experiment inspired by Marshall McLuhan who was teaching media studies only a few blocks away. Film and theatre were the principle experimental media for creating new kinds of awareness.
Heath was not so much interested in production as he was in the performative aspects of distribution as he had understood it through Charles Cooper. He received a Canada Council grant in 1975 and with Chris Clifford produced a series of inflatable Mobile Cinemas which toured Ontario and other parts of Canada for three summers (1976-1978). Heath's mobile structures grew out of a utopian spirit. His desire for a shared space and collective cinematic experience that was adaptable and mobile, was influenced by, among other things, Cooper's Contemporary Films, Expo '67, and Rochdale's radical affective pedagogy. In his inflatables, he screened works from his growing collection of art and avant-garde films (now numbered at two thousand) using a multiplicity of different projectors selected from his collection of historical and state of the art film projectors covering all formats (now numbered at over fifty).
The antagonism between bicycles and cars is present in most Western cities, and that antagonism no doubt is what Heath had in mind when he came up with the name CineCycle for a space that serves as a cinema, coffee bar and bicycle repair shop. Both the experimental alternative cinema and the bicycle occupy urban spaces in ways that are marginal and yet able because of their flexible forms to transgress the physical infrastructure of media and cityscapes. Indeed, there is a survivalist (makeshift) aesthetic in all of Heath's designs. Bicycles grew up with the cinema, and Heath has in his collection some of the silent films documenting the bicycle craze of the late 19th and early 20th centuries.
The present location of CineCyle is very appropriately in the Coach House behind 401 Richmond Street, a historical warehouse in the heart of the city which was purchased in 1994 by Toronto's Zeidler family—Christina and Margie Zeidler, whose father runs one of the most respected architectural firms in the city, manage the building. CineCycle has helped to support a scene that is ephemeral, unfinished, and in a state of constant becoming. Yet there is something else about CineCycle that is rarely talked about but which is very much part of blurring "the rim of the frame." That is the fact that CineCycle is also where Martin Heath lives. There is no evidence of this domesticity and it is something that is just known. But this is perhaps what produces in the experience of walking into the cinema a feeling of both exclusivity and belonging.
- Janine Marchessault
(edited by Eli Horwatt)
Interview with Martin Heath
| | |
| --- | --- |
| The Creation and Development of CineCycle | Martin Heath and the Toronto International Film Festival |
| Films and Bicycles | A Look Around CineCycle |