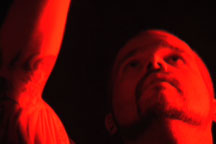 The Red Light Project was conceived and promptly abandoned by Kelly Thornton in 2000. The idea was resurrected nearly five years later with help from Clinton Walker (organizer of the Queen West Art Crawl) who thought it would be a perfect fit for the former red light district in the Parkdale neighbourhood of Toronto. After approaching businesses on Queen Street to provide windows for performance spaces, Thornton and Walker began finding artists. These thoughtful, beautiful and sometimes subversive performances re-contextualize the idea of a red light district as a space for an artistic rather than commodity spectacle. The use of Parkdale as a backdrop both acknowledges the history of the area and recognizes the changes it has gone through in the last thirty years as a burgeoning art community.
Kelly Thornton is the Artistic Director of Nightwood Theater in Toronto. She is winner of the Pauline McGibbon Award for her work as a director. Clinton Walker has been a producer, director and actor over his 25 year career in theatre, film and television.
The Visible City Project documented some of the Red Light performances that took place in September 2005. Among the many performers were MC Texass, whose freestyles challenge the attitudes of traditional heterosexist and homophobic rappers with exhilarating wit; JP Robichaud whose time based performance has him writing extensive textual passages backwards onto a window, and Elley-Ray Hennessy's "Le Tableau Vivant—Pearls Before Swine" which grotesquely recreates the absurdly opulent decadence of the European aristocracy in the 18th century.
- Eli Horwatt
Interview with Kelly Thornton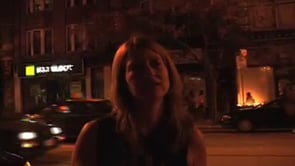 Interview
Performances
| | |
| --- | --- |
| Ellen-Ray Hennessy; Cathy Gordon | Aviva Chernick; MC Texass |
| JP Robichaud; Lisa Codrington, Anna Chatteron & Natasha Mynowych | Nicole Stamp; The Brubaker Family |