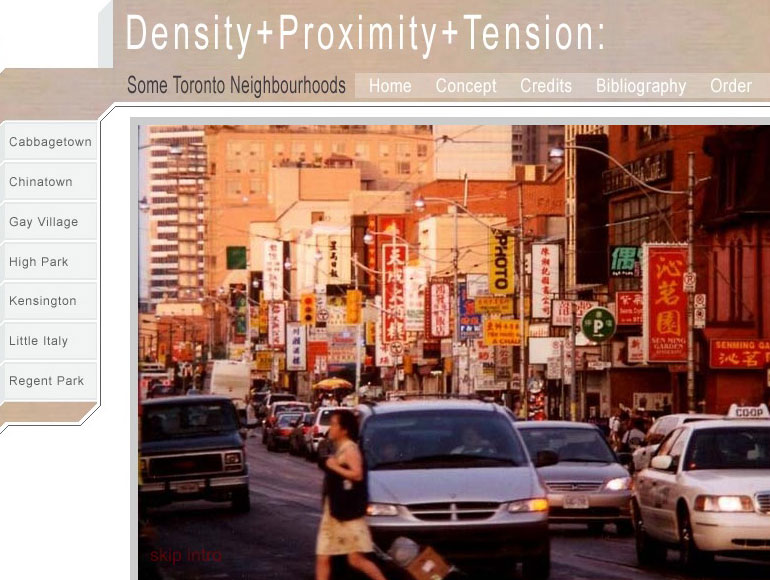 Virtual Neighbourhoods: Interdisciplinary Knowledge and New Research Tools
Density+Proximity+Tension: Some Toronto Neighbourhoods was conceptualized through the interdisciplinary research initiative the Culture of Cities Project, which involves six Canadian universities and numerous international collaborators in the study of urban culture in four second tier cities: Toronto, Montreal, Dublin, and Berlin. The Culture of Cities Project is committed to using new audiovisual technologies to develop methodologies and research questions for studying living cultures in these cities.
Toronto is called the multicultural city par excellence. Its promoters stress the peaceful co-existence of multiple languages and cultures, which find expression in distinct neighbourhoods across the city: Little Italy, Little Portugal, Little Jamaica, Little India, etc. Could one study these neighbourhoods as micrological nations to understand the workings of globalization or the distinct fabrics of cities? What do these contrived or real neighbourhoods tell us about the grammar of city identities, the gestures of civil citizenship and urban living?
Density+Proximity+Tension was developed by graduate students working across a variety of humanistic and fine arts fields at York University under the supervision of Professor Janine Marchessault, Director of the Visible City Project. The researchers collaborated with professional designers to create digital multimedia environments that are both conceptually driven and contain some ontological and ethnographic coherence in relation to the sites studied.
The completed project was distributed in the form an interactive DVD-Rom, and it is also presented as a website: http://www.yorku.ca/virtualtoronto