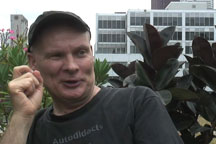 Andrew J. Paterson is an interdisciplinary artist living in Toronto, Ontario. His work engages in a playful questioning of language, philosophy, community and capitalism in a wide range of disciplines, including video, live-performance, fiction, film and music.
His video "AIDS HAS NOT LEFT THE BUILDING" recently screened at the Toronto Urban Film Festival and at multiple venues during Pride week in Toronto. This poignant engagement with gender and public space is approximately sixty seconds in length, reflecting a general movement toward shorter length works in recent years.
Since premiering at Pleasure Dome in 2003, his inter-media performance "MONO LOGICAL" has played at venues in Toronto, Calgary, Kingston and Winnipeg. In 2006, he completed a video work for the "Fraternite" residency program, entitled "Rectangular World." Whereas much of his video work involves his own performance as a central element, he usually remains behind the camera in his super 8 works. For instance, "The Walking Philosopher" involves his embodied engagement with the city from behind the camera and a voice-over narration concerned with issues of consumption, money, citizenship, philosophy and the body. His critical engagements have also included fiction, notably "The Disposables," and ongoing non-fiction and editorial work. In 2001, he co-edited and contributed to Money Value Art: State Funding, Free Markets, Big Pictures (with Sally McKay, YYZ Books), a significant contribution to research on funding the arts in Canada.
- Andrew Bieler
Interview with Andrew J. Paterson
| | |
| --- | --- |
| Music in the Late 70s | The Walking Philosopher |
| Money Value Art | Scene vs Community |
| Underground Economy | |
- Videos edited by Robin McCullough