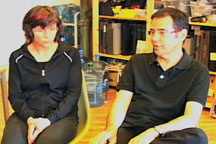 Prior to the collaboration of Lisa Steele and Kim Tomczak, both were known as prolific and industrious artists. Steele launched her artistic career in 1974 with the video Birthday Suit - with scars and defects, which has become a seminal video in the canon of works dealing with body art. Steele's work in the 1980s moved from highly personal and intimate videos towards lengthier works dealing with contemporary social issues such as The Gloria Tapes (1980), in which Steele herself intelligently and sympathetically portrays a pregnant woman who learns how to affect change in her own life whilst navigating troubling familial problems and difficult social service bureaucracies. Tomczak worked as a photo/video artist in Vancouver at the artist-run centre Pumps and first collaborated with Steele on the 1983 video In the Dark.
Together, these artists have created Vtape, one of the largest video art archives in North America that screens, distributes and sells artist work, and has also amassed a substantial collection of aboriginal videos. Vtape is in the artistic heart of Toronto at the 401 Richmond Street building and works closely with numerous other neighboring organizations to hold screenings, symposiums and artists' talks around the city. Steele and Tomczak continue to collaborate to this day, with notable works such as Private Eyes (1987) which explores the privatization of museums and art galleries and The Blood Records, written and annotated (1997) which tells the story of a young girl stricken with tuberculosis.
In addition to these artistic collaborations, the two are professors at the University of Toronto's Visual Studies program. Both have screened videos across the world from the National Gallery of Canada to the Museum of Modern Art in New York and the Kunstmuseum in Bonn, Germany. They have also won numerous awards including the Bell Canada Award for Video Art in 1992 and the Governor General's Award in Visual and Media Arts in 2005.
- Eli Horwatt
Interview with Steele and Tomczak
| | |
| --- | --- |
| Part 1, Early Experiences with Video | Part 2, Video and Film |
| Part 3, The Future and History of Vtape | Part 4, Vtape Projects |