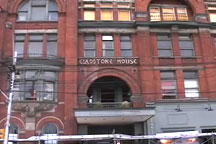 The Gladstone Hotel, a formidable presence on Toronto's Queen Street West, has a long history as the oldest continuously operating hotel in the city stretching back to the nineteenth century. The hotel was built in the medieval revivalist Richardson Romanesque style that characterizes many of Toronto's public buildings of the nineteenth century (including Queen's Park and Old City Hall). The watering holes of the Gladstone were long a gathering place for the working-class community in surrounding Parkdale and the hotel over years had a mix of long- and short-term residents.
Now owned by the Zeidler family and managed by Christina Zeidler, the hotel now finds itself located in a revived Parkdale neighbourhood, on a Queen Street West that is home to independent galleries and artist studios, as well as emergent condominium developments. An accomplished artist herself, Christina Zeidler is leading her family's attempt to negotiate the hotel's role as gathering place for a rapidly changing community whilst maintaining its ties with the past. The hotel was officially launched in December of 2005, but our interview took place in the summer of 2004, during the redevelopment of the hotel and its associated controversies and challenges.
The Gladstone is an excellent case study of the spatial expression of artist cultures, artists' relationship with traditional neighbourhood cultures and their implication in a gentrifying neighbourhood.
- Charles Finley
Interview with Christina Zeidler
| | |
| --- | --- |
| Transforming the Gladstone Christina Zeidler introduces the hotel, its history and context, including descriptions of the traditional community of the hotel, how the Gladstone reflects Parkdale, a traditional working class, and oft-troubled neighbourhood of Toronto. She describes the growth of artist cultures centring on the bars in the Gladstone, highlighting both the energy and tensions existing between existing communities and the Zeidlers "open" plan to develop the hotel as a kind of dynamic multi-use space for the community. | Challenges to Fostering a Dynamic Culture Zeidler discusses how she uses models of cultural spaces in Toronto such as the Kensington Market, CineCycle and the Cameron House in conceiving of how the Gladstone can be a focal point for diverse communities. She discusses the challenges of negotiating change and connections for existing communities within and around the Gladstone and the new creative cultures that have been attracted to the space, navigating through and creating points of intersection for differences of class, education, and sexuality. |
| The Hotel as a Transitional/Transient Cultural Space Zeidler stresses the importance of establishing the Gladstone as a transitional space, both as a home for transient events and gatherings, but also in its role as a short-term home for both hotel guests and artists in studios. She contrasts this vision for the Gladstone with that of the Zeidler family's development at 401 Richmond which became a long term home for artists and studios. | Toronto and Gladstone Art Scenes Christina discusses the dynamics of the Toronto art scene discusses the Gladstone's role in providing entry point for artists from outside of Toronto to participate (as opposed to simply observing) in the scene. She also discusses her wish for the Gladstone to be a point of intersection for various parts of the arts community, from visual artists to writers to filmmakers, and also how there might be limitations to that openness. |
| Creative Communities and Social Innovation Zeidler responds to Visible City researcher Charles Finley's question on how the Gladstone brings artist communities together and also how the space relates to Richard Florida's work on role of the creative class in cities and globalization. Christina speaks of her family's overall vision for their creative projects, including 401 Richmond in Toronto, managed by her sister Margie, and discusses an example of artistic spaces and community development from Kentucky that she participated in. | |