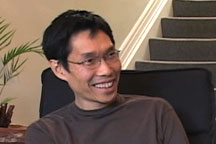 Richard Fung is a Toronto-based video artist, educator, and writer. A Trinidadian-Canadian of Chinese descent, Fung's videos focus on subjects ranging from the role of the Asian male in gay pornography, to colonialism, immigration, racism, homophobia, AIDS and his own family history.
In the following interview with Visible City, Fung discusses his involvement in Toronto's artistic community, ranging from his political involvement as an artist to his past and current projects. He also shares his thoughts on various projects, interventions, and collaborations taking place in and about the city.
For more information
Vtape, a Toronto-based distributor of videos by artists and independent documentary makers, has an extensive catalogue of works by Richard Fung.
Interview
| | |
| --- | --- |
| "Role as a Teacher" | "Self-Sustainability of the Arts and Artists" |
| "Working in Collectives" | "Working Across Borders" |
| "Uncomfortable: The Art of Christopher Cozier" | "Negotiating Identity as an Artist" |