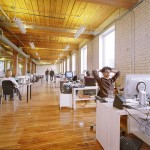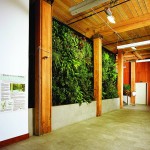 Photos of Centre for Social Innovation courtesy of Yvonne Bambrick
When Yvonne Bambrick becomes involved in local activism, building relationships between artists communities and developing common spaces through the city, she does not dabble; she throws everything into her work. First and foremost, Bambrick is the Community Animator for the Centre for Social Innovation (CSI). The Centre is a curated space in the Robertson Building on Spadina Avenue—a repurposed warehouse/factory in downtown Toronto developed by Urban Space Property Group, known for developing 401 Richmond, the artistic epicenter of the city. As Bambrick says, "The greenest building is the one that's already been built." With a biowall, or a "Four-square meter living-breathing plant wall" which purifies and fans clean air into the building, a green roof that covers 4,000 square feet, and a bicycle friendly parking area (which won them a "bicycle friendly business award" in 2007), the Robertson building gives welcome respite from the drab interiors of the traditional corporate office building.
The space in CSI has been constructed to encourage interaction and mutual participation through many common meeting areas, an open kitchen and open concept working environments modeled after Web 2.0. With a diverse group of tenants who have permanent and semi-permanent spaces CSI has curated the occupants to encourage a diversity of organizations, small businesses, publications and non-profit groups with progressive missions. CSI has integrated itself into the community by offering cheap spaces for lectures and meetings for outside groups. As the Community Animator, Bambrick publicizes CSI, documents projects, introduces groups with similar missions and promotes the active spirit of the entire organization.
If all that wasn't enough, Bambrick is also a pivotal organizer of P.S. Kensington, pedestrian friendly Sundays in Kensington Market. The group opens Kensington once a month to pedestrians for games in the street, musical performances, local artist exhibitions and participation from local merchants. As a former member of Streets are for People, a group that created and placed a garden car in Kensington, she promotes pedestrian friendly spaces through community activism, challenging the city to eliminate subsidies for automobiles with creative and subversive projects like "parking meter parties," where parking spaces are used for anything other than parking a big metal box. Bambrick is also involved as Assistant Coordinator and Spokesperson for the Toronto Cyclists Union, an advocacy group launching in May 2008. The group has modeled themselves ironically after the Canadian Automobile Association by providing service for cyclists but devoting themselves primarily to advocacy for safer riding conditions and more bike lanes. She is also on the Advisory Board and the photographer of Jane's Walk, a group that promotes the philosophy of urban/pedestrian activist Jane Jacobs who successfully lobbied to prevent an expressway from running through the middle of the city on Spadina in the early 1970s. The organization gives tours of areas of Toronto (this year focusing on inner suburban locations) by members of the community. In the meager spare time she has, Bambrick is also a photographer.
- Eli Horwatt
*Update, September 2009: Yvonne Bambrick is currently the Executive Director of the Toronto Cylists Union.
Interview with Yvonne Bambrick
| | | |
| --- | --- | --- |
| P.S. Kensington and the Centre for Social Innovation | Toronto as a site for Urban Innovation: Recreating the Commons | Streets are for People, the Toronto Cyclists Union, and the Idea of a Car Free Kensington |
P.S. Kensington - May 27, 2008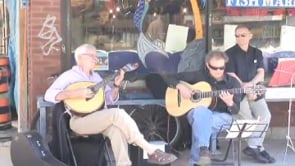 A Walk Through P.S. Kensington