Our research is an investigation of artistic practice and groupings of artists into spaces that reflect and interrogate the unique sense of the "local" about a city, as well as how that city participates in a globalized translocality that connects it to other places.
As a Toronto-based project, our work begins in our own community but has extended into Havana and Helsinki. As the project progresses we will be looking at other localities.
Toronto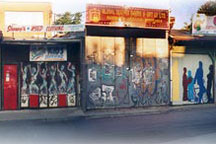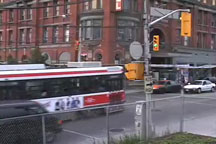 "Canada's metropolis" benefits from considerable press as one of the most diverse cities on the planet. Indeed, Toronto's citizens can trace their roots to most of the world's communities and the city is home to many of Canada's major leading cultural, research, and educational institutions. As Toronto-based researchers, the city was a natural choice as a location within which to base our research and Toronto has rich artist communities working in film, literature, installation, performance art and many other areas of the arts. Our research includes such Toronto-based artists as Mike Hoolboom, John Greyson, Vera Frenkel and emergent local creative spaces such as the Centre for Social Innovation and Artscape Wychwood Barns. The city also features groups and projects that engage in creative interventions in the landscape such as Torontotroll and Free Parking Space.
We invite you to browse through our archive.
Havana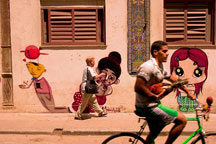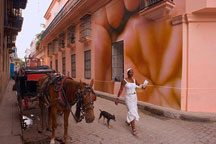 The Visible City Project's initial research trip to Havana was planned to coincide with the 9th Havana Biennial, Dynamics of Urban Culture. Professor Janine Marchessault and Professor Susan Lord (Queen's University) presented at the Biennial's theoretical event Forum Idea 2006, and the research team used the framework of the biennial, its various events and exhibitions, to support their preliminary exploration of artists and creative communities in Havana. We conducted a range of formal and informal interviews with individual artists, collectives and curators and documented a number of projects from Cuba and Latin America.
Janine Marchessault and a group of doctoral students (Shana MacDonald, Jason Rovito, and Nicholas Balaisis) attended the 2006 Havana Film Festival. They also helped to carry out numerous interviews with curators, artists and writers.
Helsinki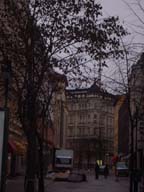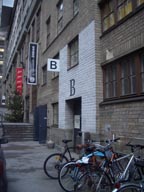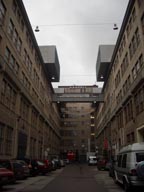 Helsinki, capital of Finland, is a small vibrant city of nearly 600,000 people. In 2006, the city was voted the sixth most livable city in the world. The city's northern position makes winter days extremely short and nights long--the Sauna, and walking on the frozen sea are reoccurring themes in Finnish culture. However, for many months in the summer the sun never sets. The Night of the arts (Taiteiden yö) is an annual event held in different Finnish cities in late August. A counter event grew up in Helsinki called Katutaiteiden yö ("Street arts night") which focusses on graffiti. A strict anti-graffiti law is enforced through street video surveillance. Thus, one of the things newcomers to the city may notice is its pristine architectural surfaces, almost completely devoid of graffiti. Indeed, the nineteenth century architect and town planner C. L. Engel created several neo-classical buildings at the heart of the city centre. This later gave it the epithet The White City Of The North.
Home to Nokia, Helsinki boasts a robust design (Marimekko!) and media arts community with numerous film and cultural festivals, on-going international exhibitions and events, dynamic arts organizations and acclaimed artists. The Kiasma Art Museum is a central cultural institution that has supported a diversity of on-going activities for the cultural community.The city houses many Universities that support innovative interdisciplinary cultural research, among them: the Finnish Academy of Fine Arts, the Helsinki University of Art and Design and Helsinki University of Technology are central.
Helsinki's coastal position on the Baltic sea makes it suitable for various translocal exchanges (industrial, touristic or artistic) with other cities in the Baltic region. The city has hosted numerous urban and art experiments which the Visible City Project examines. It is worth noting that Helsinki is home to the largest Complaints Choir in the world.
Helsinki South Harbour and surroundings by webcam — Virtual Finland