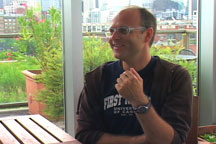 After a long and successful career as a playwright, Darren O'Donnell began informing his theatrical practice with the participatory performance style that has come to define the performance collective Mammalian Diving Reflex (MDR) and O'Donnell's idea of Social Acupuncture. Ostensibly a kind of Situationist influenced performance aesthetic, the Social Acupuncture wing of MDR is engaged in a process of "Manipulating people to be in situations where less manipulation is occurring."
O'Donnell's interest in the idea of relational aesthetics and agit-prop theatre led him to develop a dynamic idea for working with the students of Parkdale Elementary School in Toronto. The first joint project, "Haircuts By Children" trained 5th and 6th grade students to cut hair and then offered free cuts for community members at select hair salons. The project is an attempt to both offer power to typically powerless children and also to facilitate trust in adults. The Social Acupuncture mission statement for the project reads: "Haircuts by Children invites the consideration of children as creative and competent individuals whose aesthetic choices can be trusted. The idea that kids should be allowed to cut our hair evokes the same leap of faith, courage and understanding required to grant children deeper citizenship rights." Subsequently, the project received an impressive amount of media attention that also gave O'Donnell the opportunity to analyze press coverage with the students and even fire back at some of the deceptions they encountered.
The project has given students in the diverse Parkdale neighbourhood of Toronto an opportunity to interact with the "artsters" (defined by the group as "predominantly white, mostly from other cities, well-educated in the liberal arts, ready and eager to get drunk at gallery openings and always on the look-out for exciting but cheap ethnic dining experiences") who also live in the community. The project expanded into a larger series of performances called "Parkdale Public School vs. Queen West" in which students participate in various activities alongside adults presumably from the Queen West neighbourhood that borders Parkdale.
In this interview, O'Donnell discusses his initial interest in participatory art, how performance facilitated his desire to create social situations and his relationship to the artistic community of Toronto. O'Donnell is the author of the plays White Mice, Boxhead, pppeeeaaaccceee and most recently A Suicide-Site Guide to the City. He has also published the novel Your Secrets Sleep With Me, which features commands for the reader to participate in various activities. His most recent book is Social Acupuncture (2006).
- Eli Horwatt
Interview with Darren O'Donnell
| | |
| --- | --- |
| Playwriting, Social Acupuncture and Mammalian Diving Reflex | Haircuts By Children, New Plays and Toronto |
| Touring and the Future of Social Acupuncture | |