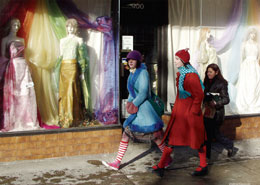 Global media have opened up a multitude of channels for the flow of information and capital across time and space. The circulation of art takes place both through these new circuits and outside them in the material environments of cities. Artists, architects and designers look to the city to bring specificity and sensuality to the ephemeral environments they are creating at the intersections of technology, communication and aesthetics. This connection to everyday life, to a sense of place and history, positions artists as aesthetic innovators and political instigators who use local environments to transcend the borders of cities and create new forms of democratic expression.
Urban Interventions: A Symposium on Art and the City, which took place in April 2005 in Toronto, brought together critical theorists, filmmakers, visual artists, architects and designers who use visual culture to investigate, document and describe this changing relationship between art and citizenship.
Keynotes: George Yúdice, WJT Mitchell, Kaja Silverman
Panels & panelists:
Connectivities and the Built Environment with An Te Liu, Rosemary Donegan, Jem Cohen
Displacements and Urban Space with Saara Liinamaa, Adrian Blackwell, Hassan Khan
Time and the City with David Tomas, Vera Frenkel, Lorna Simpson
Moderators:
Janine Marchessault, Seth Feldman, Andrew Payne, Caitlin Fisher, Kathleen Pirrie-Adams, Susan Lord, Karyn Sandlos
This event was generously supported by York University, Images Festival, Prefix Institute of Contemporary Art, Social Sciences and Humanities Research Council of Canada, Drake Hotel, and Robarts Centre for Canadian Studies.
---
George Yudice,
"The Heuristics of Contemporary Urban Art Interventions/Dimension"
April 9, 2005
Moderator: Seth Feldman
George Yúdice is a Professor of Latin American & Caribbean Studies, Spanish & Portuguese Languages and Literatures, and Social and Cultural Analysis at New York University. His talk entitled "The Heuristics of Contemporary Urban Art Interventions/Dimension" focuses on public or participatory art through which publics constitute themselves and experience something extraordinary in the process. Yúdice highlights those practices that can catalyze a public experience of what it is to come together as a public. The heuristic, as Yúdice understands it, is not something that puts itself at the service of a practice (e.g., a method which an art practice assumes); it is, rather, a dimension inherent in that practice, just as the epistemic, the aesthetic or the ethical are also dimensions of a practice. Yúdice draws from the projects presented at inSITE, the triennial art event held in the San Diego–Tijuana corridor; Arte Cidade, a series of large-scale art interventions in Sao Paulo; and CiudadMultipleCity, an urban art intervention event held in Panama in 2003. The focus is how these heuristic art practices open up new understandings and experiences of the city.
| | | |
| --- | --- | --- |
| Yudice Part1 | Yudice Part2 | Yudice Part3 |
---
Saara Liinamaa
April 10, 2005
Panel: Displacements and Urban Space
Moderator: Kathleen Pirrie-Adams
Starting with American artist Mark Dion's Tate Thames Dig (1999), and finishing with a used mystery paperback abandoned in a phone booth, this paper will examine the vagaries of circulation, displacement, and replacement across the urban landscape. Dion's project, which dredged a section of the Thames, recovered items that were meticulously cleaned and documented, then eclectically organized in a massive cabinet for display at the Tate Modern. Through the crush of objects lost then found, Dion uncovers a fragmented history of the city. In this instance, the artistic "underground" is quite seriously one of dirt, endurance and decay. The Tate Thames Dig invokes a series of pertinent questions about both artistic and social practice in the city; from contemporary art to urban garbage, this paper addresses the implications of never losing anything for the city.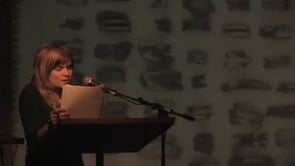 "Dredge: Circulation, Sedimentation and the Tate Thames Dig"