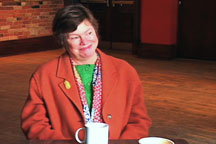 As one of the first Canadians to publish on the subject of video art, Peggy Gale's knowledge of the medium is both encyclopedic and incisive. Preferring the title of curator over critic, Gale has nevertheless written extensively on the history and artistic preoccupations of video art and artists over the last thirty years. Gale has published essays, edited anthologies, curated exhibitions and edited their catalogues.
In this interview, she discusses her exposure to contemporary art despite the rather narrow period of study by the art history program at the University of Toronto. Her knowledge of contemporary art came from her work at the Art Gallery of Ontario (AGO) slide library and organizing of evening events. In 1973, Gale organized an exhibition at the AGO called Videoscape, which explored the work of over fifty artists working in video. The exhibition was one of the first to recognize video and its potential as a new and rich artistic practice by any museum. She was hired by Art Metropole (founded by the artist group General Idea, Art Metropole is an organization that promotes, distributes and exhibits artists' products) as their first video art expert. She was asked to edit a book on video art, which became the anthology Video By Artists (1976), the first in the "By Artists" series put out by Art Metropole. While at Art Metropole, Gale was asked by the National Gallery to select video for an exhibition called Another Dimension focusing on one of her specializations—video art that focuses on time. In 1979, Gale began a brief stint working for A Space Gallery, a mutli-disciplinary artist-run centre before becoming a freelance writer, editor and curator.
In 1994, Gale co-authored Video re/View: The (best) Source for Critical Writings on Canadian Artists' Video with Lisa Steele. Most recently she edited Artist's Talk, compiled from fifteen interviews with artists. Gale has also contributed essays to Mirror Machine: Video and Identity (1995) and Lectures Obliques (1999), and published in numerous periodicals. In 2006, Gale won the Governor General's Award in Visual and Media Arts.
Like many writers on video art, Gale is most interested in the kinds of thinking involved in the process of making video. In this interview, Gale discusses the importance of artist-run centres like A Space in creating a community of video artists that are internationally recognized. She addresses the idea that video art as we knew it no longer exists because of the hybridity of video and its use for narrative. Gale also explores the role of the Internet in artists' video, its distribution, and the positions many artists have taken in regards to copyright.
- Eli Horwatt
Interview with Peggy Gale
| | |
| --- | --- |
| Contemporary Art Study and Early Curatorial Practice | Video Art Matures: Exhibition and Theorization from the 80s to the Present |
| Art Metropole and Artist-Run Centres | Video and Hybridity in Media |
| The Role of the Internet in the Future of Video Art | |