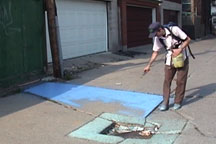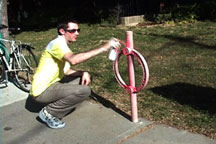 The City Beautification Ensemble (CBE) is an urban interventionist group fighting against the dullness of the Toronto cityscape by introducing blocks of colour into the city. CBE's guerilla urban renewal project improves the psycho-geography of Toronto through "soft-spot" colour application to fight against the harsh greys of our concrete-centric society and produce "a calming place for the eye to take a breath." Through their self-designed process, a cross-pollination of colour therapy and graffiti art the group has made beautiful improvements to Toronto's alleyways, bike parking and the York Quay.
The group, made up of Ontario College of Art & Design alumni Jason Van Horne, Redmond Weissenberger and Duncan Walker positions themselves as a grassroots response to the decreasing autonomy of the public over the cityscape, meanwhile rejecting the privatization and corporate patronage of public art. Careful only to beautify public property, the group has maintained a strong presence in Kensington Market since 2002. Like the Situationists before them, the ensemble's improvements battle the dullness and blight of an increasingly functionalist consumer society. The ensemble describes their process as a "careful and near scientific approach to colour selection" to "ensure that the right hue is applied to the appropriate area."
During Bike Week in Toronto, CBE spearheaded the Pedals and Paint project, coordinated with the Toronto Public Space Committee and Spacing Magazine. For the project, members repainted bicycle parking posts and abandoned bicycles throughout the city. The work was well received by members of the city council despite the various laws broken in the process of the project. CBE has also worked with the Urban Beautification Brigade to repaint bus shelters.
- Eli Horwatt
| | |
| --- | --- |
| Interview with Jason Van Horne and Duncan Walker | |